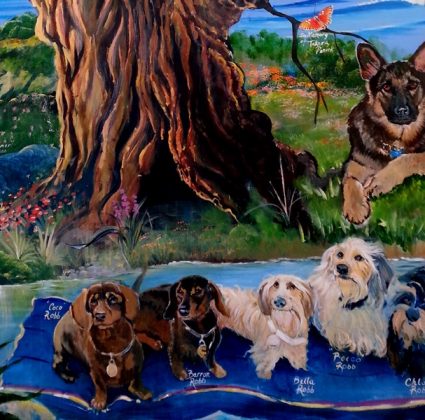 Tree of Life: A Beautiful Way to Honor Your Pet!
Celebrate the unconditional love of your pets by honoring or memorializing them with a personalized leaf or life-size portrait on one of FACE's stunning Tree of Life murals. The murals are prominently located at the Veterinary Specialty Hospitals in Sorrento Valley and San Marcos. Funds raised from the murals help FACE save the lives of beloved family pets in need of critical veterinary care.
Leaves: $100 (San Marcos), $150 (Sorrento Valley)
Portrait: $4,000 (San Marcos), $5,000 (Sorrento Valley)
These amazing murals are truly stunning works of art that will give you a meaningful way to acknowledge the love you feel for your pet. All proceeds will benefit FACE Foundation and are tax-deductible. To purchase a leaf or portrait, please visit our donate page or call us at 858-450-3223.
To learn more about our artist Kevin Anderson,
click here
!
Check out this fun video from our Tree of Life unveiling event by Josh McMurtrie!