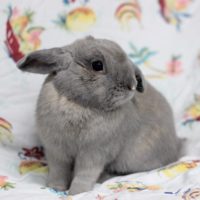 Rabbits are cute, but do you know the amount of work that goes into having a happy bunny? San Diego House Rabbit Society's Executive Director, Jennifer Lee will discuss rabbit ownership, proper handling, and Rabbit Hemorrhagic Disease Virus, vaccines and prevention.
Registration is free. Sign up now!
Presenter: Jennifer Lee
Jennifer Lee is the Executive Director of San Diego House Rabbit Society. She also serves on the board of Harvest Home Animal Sanctuary and San Diego House Rabbit Society. Jennifer started her career in biosciences and then moved to supplemental education. She started volunteering with Peninsula Humane Society and the Rabbit Haven over 17 years ago in the rabbit room and then found International House Rabbit Society and became a licensed educator. In 2011, she moved back to San Diego to join her family company and started to volunteer with San Diego House Rabbit Society. Her role eventually grew to be the Volunteer Director, Financial Director, and Chapter Manager, before she was officially hired on as the Executive Director.