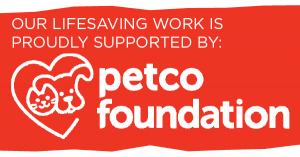 The Petco Foundation Helps FACE Save Lives of Pets with Cancer!
FACE was recently awarded a grant from the Petco Foundation, to help save the lives of pets fighting cancer. Funds from this award will be designated towards helping pet parents who cannot afford the cost of their pet's cancer treatments. This is the fourth year that the Petco Foundation has partnered with FACE to save lives, and we are honored to have their support in our mission to enhance and preserve the quality of life of animals by providing access to necessary medical care and education.
About the Petco Foundation
At the Petco Foundation, we believe that every animal deserves to live its best life.  Since 1999, we've invested more than $200 million in lifesaving animal welfare work to make that happen. With our more than 4,000 animal welfare partners, we inspire and empower communities to make a difference by investing in adoption and medical care programs, spay and neuter services, pet cancer research, service and therapy animals, and numerous other lifesaving initiatives. Through our Think Adoption First program, we partner with Petco stores and animal welfare organizations across the country to increase pet adoptions. So far, we've helped more than 5.5 million pets find their new loving families, and we're just getting started. Visit petcofoundation.org to learn more about how you can get involved.