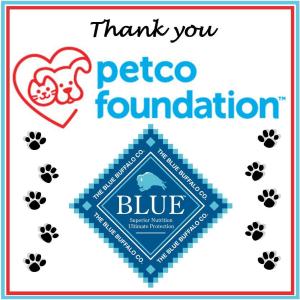 The Petco Foundation and Blue Buffalo Help FACE Save the Lives of Pets with Cancer
FACE was recently awarded a grant from the Petco Foundation, in partnership with Blue Buffalo, to help save the lives of pets fighting cancer. Funds from this award will be designated towards helping pet parents who cannot afford the cost of their pet's cancer treatments. This is the third year that the Petco Foundation and Blue Buffalo have partnered with FACE to save lives, and we are honored to have their support in our mission to enhance and preserve the quality of life of animals by providing access to necessary medical care and education.
About the Petco Foundation
At the Petco Foundation, we believe that every animal deserves to live its best life.  Since 1999, we've invested more than $145 million in lifesaving animal welfare work to make that happen. With our more than 8,000 animal welfare partners, we inspire and empower communities to make a difference by investing in adoption and medical care programs, spay and neuter services, pet cancer research, service and therapy animals, and numerous other lifesaving initiatives. Through our Think Adoption First program, we partner with Petco stores and animal welfare organizations across the country to increase pet adoptions. So far, we've helped more than 4.8 million pets find their new loving families, and we're just getting started. Visit petcofoundation.org to learn more about how you can get involved.
About The Blue Buffalo Foundation for Cancer Research
The Blue Buffalo Foundation for Cancer Research was established in 2003 by The Blue Buffalo Company, Ltd. a manufacturer of healthy and holistic dog and cat foods under the BLUE™ brand names. Finding a cure for pet cancer is one of the top priorities for The Blue Buffalo Company because its founders have had very personal experience with this disease. "Our dog Blue, a large breed Airedale and a great pal, had three bouts with cancer," said Bill Bishop, Blue Buffalo's founder. "After Blue's battles, we wanted to do something meaningful to help find a cure for this devastating disease. So one of the first things we did after starting our pet food company was to establish the Foundation to raise money for pet cancer research, and raise awareness among pet parents of the early warning signs of this disease." To learn more, visit petcancerawareness.com.
About Blue Buffalo
Blue Buffalo Company, located in Wilton, CT, is the nation's leading natural pet food company, and provides a complete line of healthy and holistic natural foods and treats for dogs and cats. Blue Buffalo products are sold nationwide in Petco.  For more information visit BlueBuffalo.com.
FACE has partnered with San Diego oncologists from six different veterinary hospitals to help determine which animals will benefit most from a life-saving cancer grant. If your pet has been diagnosed with cancer and you are in need of assistance, please call our office at 858-450-3223 to see if you qualify for a grant from FACE.
We would like to thank both the Petco Foundation and Blue Buffalo for their generous support and for helping us save the lives of pets in San Diego!