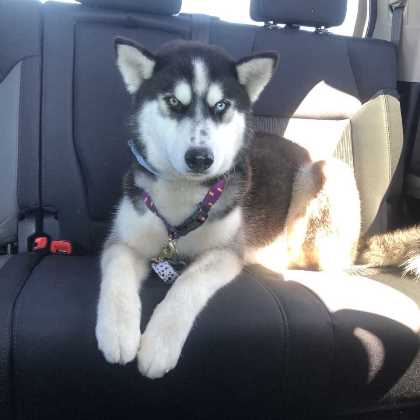 Zeus
Zeus is a playful and vivacious nine-month-old husky. Since settling into his loving family's home, Zeus immediately became indispensable to each member of his family.
One day in early April, Zeus and his "dad" were out for a car ride, when they ended up in a sudden accident that left their car totaled. Once his dad realized he was unharmed, he quickly assessed Zeus, who he noticed to have been shaken around in the back seat of the car. Like his dad, Zeus also appeared as completely uninjured, and the two returned home to rest.
It was at home that Zeus started to act unusual to his everyday self. His family took immediate notice and had him taken into their local veterinary hospital and then referred to Veterinary Specialty Hospital where he was diagnosed with intussusception, and in need of immediate surgery.
With the recent car accident putting a strain on the family's finances, there wasn't money saved for another emergency cost like this. Zeus's family reached out to FACE desperate for help. After reviewing Zeus's application, FACE was able to approve for a grant towards his surgery! Thankfully, he is happily recovering at home with his family.