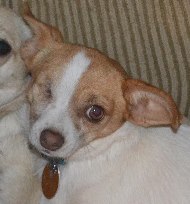 Vicki
This little soldier is "Vicki," a Chihuahua Chinese Crested mix who is all healed from her recent eye surgery! It is with great pleasure that FACE shares this heartwarming thank-you letter with our fellow animal lovers and donors. Each and every gift, no matter how small, saves lives!
"Hello All Animal Lovers,
I have something wonderful to let as many people as I can know about. I am a disabled veteran and in recent months my personal situation has culminated in a static stale mate while waiting for my benefits to improve. I have three pups and up until this situation I have been able to keep their care balanced within my budget.
An emergency situation developed that was clearly life threatening for one of my adorable little Chihuahua Chinese Crested mix pups, Vicki. She needed emergency surgery to remove an eye that had, for lack of a better term, 'popped' out of her little head.
The cost for the surgery was more than well beyond my means. Two organizations learned of my dire situation and did not hesitate to step right up to the plate and be there in my time of dire need.
FACE and Mohnacky Animal Hospital of Escondido worked closely together to have a plan of action and a solution in play within what seemed to be minutes compared to what seemed a race against time before infection set into Vicki's brain.
These few paragraphs cannot begin to fully express our gratitude for the professionalism, humanitarian care and the overall concern for the well-being of loved pets that FACE and Mohnacky Animal Hospital practice as their everyday standards."
With our most sincere gratitude,
Matthew, and my three pups, Vicki, MaChambre and Punkin'