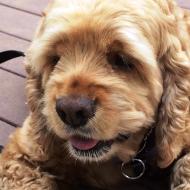 Tucker
Introducing Tucker, a 9 year old Cocker Spaniel who is smart, entertaining, and loves to play chase! His "mom" Lola and her grandkids highly adore him and especially love when he greets them at the door everyday with his playful charm. Lola was recently on a business trip in San Francisco when she received a phone call from home alerting her that Tucker had been in an accident. He was found by a roommate outside of Lola's home near a canyon, struggling to walk. It's still a mystery as to how Tucker got outside, but he managed to cause some serious damage. His right hip was severely injured and required an emergency surgery.
With Lola being miles away from her beloved pet, she felt helpless and distressed. Not being able to afford the surgery Tucker needed only made it worse. When she found out that FACE helps provide emergency financial assistance for situations just like hers, she decided to reach out right away. The team at FACE was touched when she said:
"I don't know what he was doing or how he ended up in the canyon but he is very loved and deserves to have another chance to live a healthy life. He is such a joy to me and I love him so very much."
Thankfully, FACE was able to partner with San Diego Pet Hospital to make Tucker's surgery a success story! Today, Lola and her grandkids are ecstatic to have him back at home, always waiting to give them sloppy kisses!