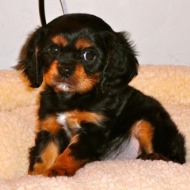 Tommy
Tommy the tiny Cavalier was viciously attacked by a coyote earlier this week in North County, San Diego. Adventurous Tommy had wiggled through his fence and was sniffing around his front yard when a coyote nearly took his life. A neighbor saw what he thought were two dogs playing. Then he realized, to his horror, that a coyote had Tommy, who was desperately fighting to escape. The neighbor ran across the street and fought off the coyote. Tommy's injuries were already so severe; he was hardly breathing and barely moving… He was rushed to the hospital.
In a letter the the FACE Foundation, Tommy's owners wrote: 'Tommy has been an incredible part of our family, he is the sweetest dog. He loves to snuggle, loves the beach, and playing in the sand. Our family has had some really tough challenges over the past few years, and Tommy is always there with a smile and love to give. We have survived a lot of challenges and have many more to come, but losing Tommy…it would be devastating.'
Thanks to the generosity of our amazing donors, the FACE Foundation has pledged to help save Tommy. He received critical treatment at the Veterinary Specialty Hospital, and his expected to make a full recovery.