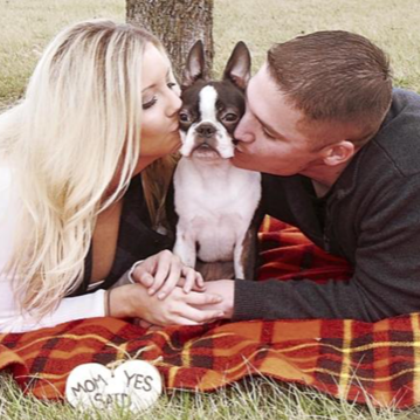 Ted
Just 10 days after Brooke and Dallas welcomed their first baby into the world, the unexpected happened: their fur-baby, a 5-year-old Boston Terrier named Ted, was rushed to the vet hospital in pain and unable to walk. The doctors at Veterinary Specialty Hospital diagnosed him with IVDD – Intervertebral Disc Disease, a degenerative illness that damages a pet's spinal cord over time. Left untreated, IVDD can leave a pet in extreme pain and unable to walk for the rest of their life.
Dallas, a member of the Marine Corps, was preparing to deploy when Ted began showing signs of this heartbreaking condition. With limited resources and a newborn at home, the couple knew they didn't have the funds to pay for Ted's emergency surgery – but they just couldn't give up on getting him help. Dallas says, "He was our first child and I just couldn't imagine life without him."
That's when FACE stepped in. After reviewing Ted's application, FACE was able to provide a financial grant to help him get the surgery he needed to walk again.
Thanks to the generosity of donors and veterinary hospitals like Veterinary Specialty Hospital, Ted is now back at home with his loving family – exactly where he's meant to be.
Brooke and Dallas say, "Thank you so much for your help with our little man Ted. He has been a part of our family since he was a puppy. Through all the pain he's been a trooper with the best heart. We are extremely grateful for the support and generosity that the FACE Foundation has shown us. We came into the vet office expecting the worst and knowing we wouldn't be able to afford it. I truly felt like it was a miracle to be introduced to the FACE Foundation at this time and point in our lives. We couldn't have saved our little man's ability to walk without you. Thank you from the depths of our hearts."