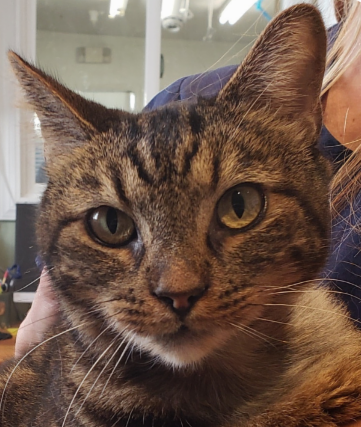 Sugar the Survivor
In August of 2018, Sugar, a sweet cat, fell out of a window and suffered multiple injuries including jaw fractures, skull fractures and a leg injury. She was anemic, had infections and was in severe pain. When her previous owner, a local senior citizen, unexpectedly relinquished her care to FACE due to his personal medical conditions,  our supporters reached out to help get her the care she needed.
Thanks to a partnership between FACE Foundation, Pet Emergency and Specialty Center, Veterinary Specialty Hospital in Sorrento Valley, SoCal Vet Dental Specialists, and Rancho Coastal Humane Society, Sugar was able to receive the care she needed to get back on her paws.
Our amazing friends at Rancho Coastal Humane Society offered to help foster her during her recovery period. After months of surgeries and rehabilitation stemming from the devastating fall, we are happy to report that Sugar was officially adopted on October 18, 2018 within minutes of becoming available.
After saying goodbye to the care providers and volunteers at Rancho Coastal Humane Society, Sugar waved her paw goodbye and left to begin her new life in Chula Vista.
Check out RCHS's video featuring Sugar cuddling with her new "mom".