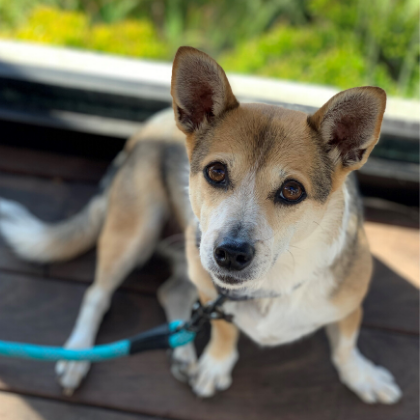 Scout
After being adopted as a puppy from Second Chance Dog Rescue, Scout and her "mom" have been inseparable for 7 wonderful years! When Scout showed signs of neck and back pain, her mom rushed her to the vet. The team at Veterinary Specialty Hospital- Sorrento Valley suspected Scout had a ruptured disc. They wanted to do more tests and a surgery, but the cost was more than Scout's family could afford. With nowhere else to turn, they applied for FACE's Save-A-Life Program.
Scout's family says "Thank you so much for your help with Scout the dog! She's usually a very happy go lucky pup with an adventurous spirit, and to see her in such pain was heartbreaking. With the help of FACE, we were able to get Scout the immediate medical attention she needed and set her on the road to recovery. I cannot thank this foundation enough and the generous humans who make all of this possible. From the bottom of my heart and Scout's, thank you!"
Scout could not have been saved without the support of our faithful veterinary partner, Veterinary Specialty Hospital- Sorrento Valley. They helped the family with the FACE application, provided a generous discount from the treatment, and provided the needed medical care.