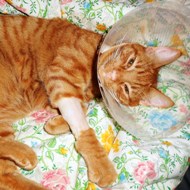 Pony
Pony is about to celebrate his first birthday. He says this story covers a really personal topic and it's a bit embarrassing to discuss in public. On the other hand, he knows that many male kittens and cats have a similar diagnosis so he's decided to tell you about it. Male cats can easily develop obstruction of the urethra. Once obstructed, cats may be unable to urinate and may cry, move restlessly, or hide because of discomfort, and eventually will lose their appetites and become lethargic. Complete obstruction can cause death in three to six days.
In early December, Pony was brought to a veterinarian for the third time in eight days. During his first visit, a veterinarian was able to flush him to remove sediment. The second time a urinary catheter was left in place. Now he was obstructed again, straining to urinate but producing no urine. Treatment options were discussed, including perineal urethrostomy surgery which had the advantage of a low risk of future obstructions. The expense of surgery was significant and the family had exhausted its resources. FACE came to the rescue and surgery was performed.
Pony's family sent a lovely note at Christmas: 'How in the world do you thank someone for saving a family member? Thank you just doesn't seem to cut it but we are all so very very thankful to this foundation for saving Pony's life. We absolutely love him. When we had to take him to the vet that last time to say goodbye, knowing that we didn't have anything else to spend, to say that we were devastated is an understatement. A friend of mine said, 'You know it is the season for miracles' [and] our prayers were answered, you were able to help our baby. We love you and thank you again from the bottom of our hearts!!!'
We recently caught up with Pony. He's doing great! His human mom said he's back to being his mischievous self. It's a busy home with two children (ages 11 and 14), two dogs (a Labrador Retriever and a Cocker Spaniel), a turtle, and Pony's brother and litter mate. Pony and the Labrador Retriever are best buddies. Pony loves to be up high, looking down on all the other living creatures in the house. If he's not up high, he wants to be loved!