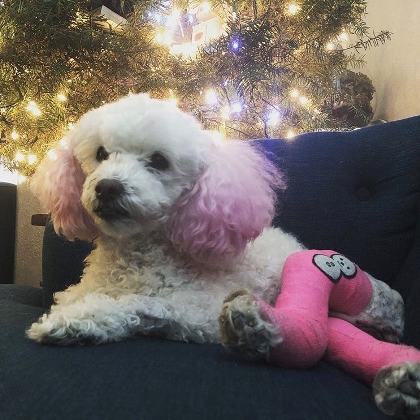 Pinky
Meet the adorable Pinky! Pinky is a spunky poodle-mix who lives a happy life with her mom, Chris. Pinky and Chris have a very special relationship as Pinky came into her home after her previous owner, Chris's family member, passed away. Pinky had no where to go and Chris gladly welcomed her into her home where they soon became inseparable.
When Pinky suddenly began struggling to walk, Chris knew something was wrong. Pinky was taken to the emergency hospital, where she was diagnosed in need of surgery to resolve her condition.
Chris was heartbroken- Pinky had become her "little angel". But, after suffering two family tragedies, she had no way of affording Pinky's cost of care.
Chris quickly got to work and started fundraising for Pinky's surgery. After having some success in raising funds, she reached out to FACE desperate for help in assisting with the remaining amount needed.
After reviewing Chris and Pinky's application, we were able to approve to help with her surgery! Here Pinky is now- recovering comfortably just in time for the holidays. Thank you to all who allow us to help pets like Pinky!