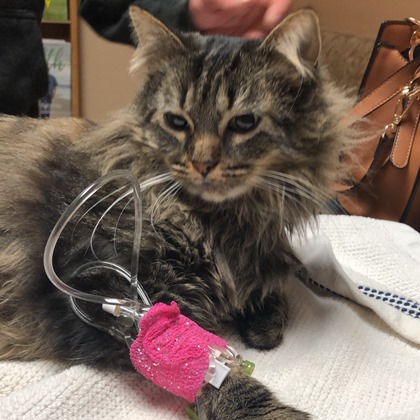 Pierre
Pierre is a playful kitty who got into some unexpected trouble one day while her parents were out. She was taken to the veterinary hospital initially due to her poor appetite and labored breathing- something very uncommon for the five-year-old Maine Coon.
At VCA Animal Medical Center of El Cajon, Pierre's parents were shocked to find out she had fractured her pelvis. Her fracture would need to be repaired surgically at a cost nowhere near what her parents could possibly afford.
Pierre's parents were heartbroken. They had always kept their adored kitty indoors and never imagined she was at risk to suffer such a serious and costly surgery. Pierre was otherwise perfectly healthy and had a great prognosis with treatment. It was primarily the cost of her treatment that prevented her from receiving her necessary care.
Pierre's parents found out about FACE and contacted our office immediately. They had made efforts to fundraise and reach out to friends and family, but still came up short in obtaining the total amount needed for Pierre's surgery.
After reviewing Pierre's application, FACE approved them with a grant to go towards the cost of her critical surgery. We're happy to report Pierre has made a complete recovery with the loving support of her family beside her the entire way.