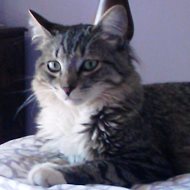 Paw
Say hello to Paw! This two year old Maine Coon mix is just as lovable as he looks. His mom, Kori, first laid eyes on this sweet little guy while visiting a neighbor. Taken away by Paw's handsome features, Kori decided to take him home. Soon enough, he became the love of her life. Recently, Kori began going through financial hardships, but through this bad time of her life she could always count on her "angel," Paw, for comfort.
One day, Kori noticed that Paw was straining to urinate. He was so uncomfortable that he even stopped eating. Naturally, Kori became concerned and tried everything to nurse Paw back to normal. She tried to give him extra yummy food, but ultimately, there was no luck. When she took him to the vet, it was discovered that Paw was suffering from a urinary blockage. With no funds to support the surgery for Paw, Kori sent FACE a plea for help saying, "I don't know what I would do without him. He's my baby! I love him so much, I hope you can help me save his life!"
Thankfully FACE was able to step in and save the day. Paw received his life-saving surgery and Kori can rest assured that her "angel" will continue to be her guiding light.