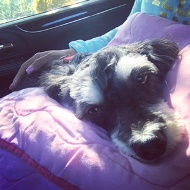 OLIVE
Sweet Olive, a five-year-old Poodle mix, was adopted two years ago by a local military family. Her "mom" began to worry when her normally active and playful pup began acting lethargic. When she got up she would cry out, and eventually resorted to spending all of her time resting on her pillow in pain.
Olive was diagnosed with T3-L3 myelopathy, a disc issue in her spine that will leave her in extreme pain and eventually paralysis, if left untreated.
Her loving family of five had no where to turn. Their entire family lives in Puerto Rico, and Olive's owners have no way to communicate with them. But even if they could, they know they cannot ask their loved ones for help as they struggle to recover from Hurricane Maria.
"We struggle financially due to our overwhelming expenses, and being an active duty military family dealing with separation from our Marine. Our biggest fear is that if we do not provide our Olive with the medical care she needs, we will be forced to put her to sleep to avoid her from suffering any longer. We kindly ask that you give us the opportunity to save her life and allow our children and us to not lose her. She's such an amazing companion and part of our family, we will be so devastated to not be able to provide her with the help she needs."
Thanks to all the generous donations for Olive and hard work at Veterinary Specialty Hospital, FACE was able to fund Olive's medical care!