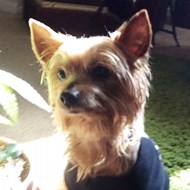 Nellie
Meet Nellie! Nellie is an adorable little Yorkie that spends most of her days attending to her "dad," Kevin. Kevin suffered from the big housing market crash in 2009 and has been trying to bounce back from it ever since. With a new job and place to live, Kevin was starting to feel hopeful toward the future. That was until his beloved companion, Nellie, was diagnosed with a serious disease called Pyometra. This disease is common in female dogs that have not been spayed, and can cause kidney failure and death if left untreated.
Kevin was devastated and made the call to FACE asking for help. Thankfully, FACE was able to award them a grant! Now Nellie and Kevin can continue to enjoy what the future has in store for them.
Special thanks to Pacific Animal Hospital in Oceanside for all their help and generosity on Nellie's case!