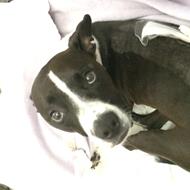 Nala
Nala is a sweet, 5 year old Pitbull mix who is the light of her human momís life. Nalaís mom recently moved cross-country to San Diego, looking for a new beginning. Naturally, she brought Nala along with her. She was devastated when Nala sustained a spinal injury that would require immediate surgery to correct. Nalaís mom was still getting on her feet and although she had a steady part-time job, it just wasnít enough to afford the full cost of the complicated surgery.
ìIn the past 5 year, Nala has been my best friend,î said Nalaís mom. ìShe loves going on adventures with me. From kayaking and swimming, to hikes of all kindsÖIn our latest adventure, Nala drove 3,000 miles with me to San Diego keeping me company and safe the whole time. Even though starting over in a completely new place and knowing almost no one is very hardÖNala has been by my side.î
Thankfully, Nalaís mom reached out to FACE just in time. FACE was able to provide a grant so that Nala could receive her surgery and heal at home, with her special human to look after her. Thanks to FACEís life-saving grant and the support of her caring owner, Nala can continue to join her mom on many new adventures!