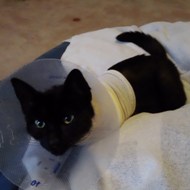 Miley
Miley is a sweet two and a half year old cat who lived her life outdoors by day and indoors by night. Usually Miley would come into the house at night but when she didn't return one evening, her family was worried. As they pulled in the driveway the next evening, Miley sprinted across the street to greet them. That's when they noticed serious injuries to her left paw. She must have mustered all the strength and stamina that she could find in order to cross that street. There were numerous puncture wounds, small lacerations, and a degloving injury. What is degloving? It means that the skin and subcutaneous tissue have been torn away, exposing the underlying soft tissues and ligaments of the paw. Miley's family was informed that the injuries were so significant that it would be necessary to amputate her left leg.
Enter FACE Foundation and help with the unexpected medical expense. Shortly after surgery, her family wrote,'What a blessing your organization is. Although she is taking it easy, Miley is as happy as ever (other than having the cone on her head).' In a recent conversation with her family, we were told that the cone is gone and the stitches are out. Miley is still wearing a kitty sweater because the veterinarian said it would give her a sense of security as she becomes accustomed to the loss of one leg. Not much is stopping this girl! She is running and playing and giving kitty loves just as she always did before the accident. In fact, a bannister that is only 4′ wide remains one of her favorite places to rest and watch her family.
There is a great quotation that is attributed to Groucho Marx. 'A black cat crossing your path signifies that the animal is going somewhere.' We know that Miley will be crossing everyone's path with the same speed and energy with three legs that she had with four legs! Thank you, FACE! And wishes for a full recovery, Miley!