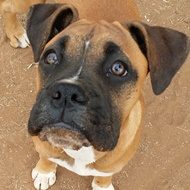 Mexi
This is Mexi! Mexi Rice, that is. She is a loveable 1 year old female boxer who loves her family greatly. One afternoon, Mexi had a little run in with the side of a moving truck. Upon noticing her in distress, Mexi's frightened owners took her to their local hospital for an immediate evaluation.
Once there, they found out that Mexi was suffering from multiple pelvic fractures that were caused by the trauma. With a recommendation to have her undergo surgical stabilization, Mexi's owners were in immediate need of financial assistance to help cover the medical costs.
Making a proactive decision, Mexi's owners contacted FACE asking for help while adding, "We love our puppy!"
The FACE team went straight to work and was able to provide the Rice family with an accommodating grant to help save Mexi's life. Now Mexi has the opportunity to spend many more years growing alongside her faithful family.