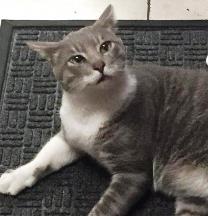 Meow Meow
Meow Meow is a one-of-a-kind kitty who, as his "mom" puts it, "has the patience of a saint" when it comes to playtime with their children. In a passionate letter to the FACE Foundation, Meow Meow's pet parent explained how her family was worried sick when their little buddy didn't come home for 5 days. "It turns out that he had either been hit by a car or hurt very badly and was trying to make his way home," she wrote. Apparently, Meow Meow was a stray who decided this home was where he belonged and has showered his family with love ever since.
Meow Meow's mom wrote, "Our five children, especially our youngest two (3 and 1.5 years old) have really come to love him…It has been a rough 5 days without him around, and we couldn't imagine how hard it would be to lose him forever." Meow Meow's family was making ends meet with only one source of income since his "dad" had been laid off from his last job and was out of work for the past year. Without FACE's help, Meow Meow and his family would be left with only one heart-breaking option.
Luckily, FACE was able to grant Meow Meow the funds he needed to get his emergency surgery with our Save-A-Life partner Veterinary Specialty Hospital! His parents updated FACE after Meow Meows surgery to have an eye removed and his jaw repaired and they reassured us he was doing well: "we have a long recovery journey ahead, but we're up for it! Thank you SO much FACE Foundation, for helping us in a moment when we needed you the most." Special thanks to FACE donors for helping keep this loving family together!