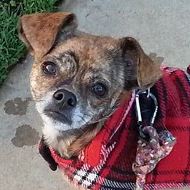 Meet Success Story Teeka!
Say hello to Teeka! This cute Chi/Pug mix belongs to her "mom," Kimberly, and her little "sister," Sarah. Kimberly works hard to support her family as a single mom. On top of her job, she is also attending school to become a physical therapy assistant. With such a full load to carry, you can imagine how shocking it was when poor little Teeka was hit by a car one morning!
Suffering from overwhelming pain, Kimberly rushed Teeka to the hospital. The doctors concluded that Teeka suffered from a fractured elbow and would require immediate medical attention. With all of Kimberly's funds being tied to other family obligations, she became increasingly concerned for Teeka's well-being.
With help from the amazing staff at Veterinary Specialty Hospital (VSH), it was suggested that Kimberly make the call to FACE. Thankfully, FACE awarded her a grant to help finance the cost of Teeka's emergency surgery.
FACE is proud to announce that Teeka is now back at home with her loving family! You might find her with her ìsisterî Sarah or enjoying the sunshine at her local beach.