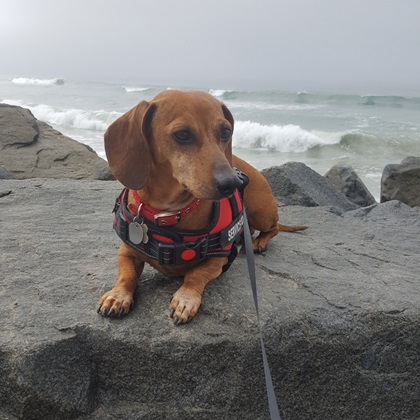 Martini
Meet Martini! Martini is a nine-year-old dachshund who lives with his "mom", Rosemary. Rosemary and Martini are the best of friends who do everything together, so when Martini was suddenly unable to walk one day, Rosemary immediately rushed him to the hospital.
Upon arrival at Veterinary Specialty Hospital, Martini was quickly diagnosed with intervertebral disc disease (IVDD), a condition that is unfortunately common in the dachshund breed. If not treated with surgical intervention in a timely manner, IVDD can lead to paralysis.
As a senior on a fixed income, Rosemary had no idea how she going to fund for Martini's emergency surgery. She had spent what funds she had simply getting Martini diagnosed and was completely at a loss for how she was going to afford his life-saving care.
Thankfully, the hospital referred Rosemary to contact us here at FACE. After talking to us and submitting a complete application, we were able to process Martini's case and approve for him to have surgery that same day! Here's to many more happy years for Martini and Rosemary!