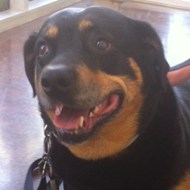 Marley
There is a wonderful song written and performed by Carole King. As its lyrics say, if you are down and troubled and you need some loving care, 'You just call out my name, and you know where ever I am, I'll come running to see you again'. Whenever Jamie has needed a friend, Marley has been there. Jamie, a military veteran, rescued Marley eight years ago when she was just a puppy. Living in a dilapidated shack, Marley needed a friend and Jamie was there. Since then, Marley has been by Jamie's side through devastating tragedies. Already having faced the death of her only brother in a terrible car crash before she met Marley, Jamie's father died at the young age of 53. No longer able to cope with the loss of a son and a husband, Jamie's mother took her own life. Marley was always there to help and Jamie's bond with Marley kept her going.
In 2007, Marley was hit by a car and needed hip replacement surgery. A prosthetic (artificial) hip has three parts. A long stem which is embedded in the femur. A round head (the 'ball') which is attached to the stem. And a cup (the 'socket') which replaces the natural socket of the hip joint. During hip replacement surgery, the damaged hip joint is removed and replaced with an artificial joint. When Marley started limping earlier this year and was in severe pain, Jamie took her to a veterinarian who found something he'd never seen before – her surgical implant had fractured. Jamie is struggling financially so FACE stepped in to help with Marley's surgery.
During surgery, it was determined that the cup needed replacement. It had worn out so Marley's hip was metal on metal. Marley is an older dog and this is her second major hip surgery so recovery has been twice as long as anticipated. With a sling under her belly to help her walk, Marley was confined for four weeks. Her stitches have now been removed but because the incision deep into the muscles must heal completely, her activity is still limited. For a dog who loves to play ball and who loves the park and the beach and who loves playing with her two doggie house mates, Marley can't wait to be out and about again. Jamie and Marley send lots of love and thanks and kisses to everyone who helped them. They think it is wonderful that they now have so many new friends who helped make this surgery possible. Marley is healing nicely and should be back to her old activities this summerÖ Just in time to play in the San Diego summer sun. Thank you FACE donors. We love you!