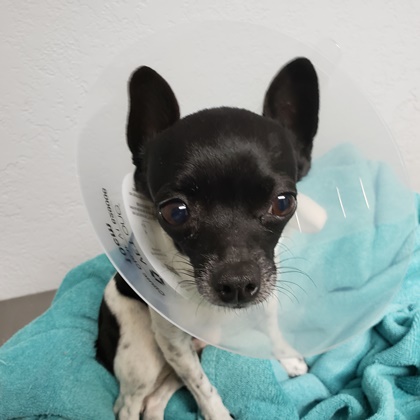 Lucy
Lucy is an adorable four-year-old chihuahua who lives a happy life with her mom and dad. A couple weeks ago when Lucy's mom was taking out the trash, tiny Lucy slipped right out the door and was accidentally hit by a car.
Lucy's parents rushed her directly to Valley Center Veterinary Clinic where she was diagnosed with multiple pelvic fractures that would require surgery in order to repair. Lucy's parents were absolutely devastated. Her mom had just started a new job only a couple days before and was no where near prepared for such an emergency to happen with her sweet Lucy. Her family immediately started fundraising, but had limited time to come up with necessary funds.
Thankfully for Lucy and her family, Valley Center Veterinary Clinic, is part of FACE's Save-A-Life network. The amazing staff at the hospital referred her family directly to us for assistance. Lucy's parents quickly submitted all application materials and were approved a FACE grant to go towards Lucy's critical surgery.
Lucy's mom recently updated us with precious words of thanks directly from Lucy herself: "Thank you for all your love and support. Love you. Love Lucy"