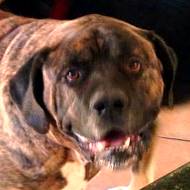 King Tut
Presenting King Tut! This 6 year old Mastiff has a large personality and, at times, a curious craving for clothing! After a long, adventurous day outside, King Tut's owners noticed something odd about their lovable giant. He didn't want to eat and, by the looks of it, didn't want to move either. Upon closer inspection, his owners noticed some swelling along his side and suspected that he may have been bitten by a critter in the canyon near their house.
King Tut's concerned parents rushed him to the hospital where the doctors determined that he was suffering from an infected wound. Bacteria had entered the wound and caused a dangerous abscess for poor King Tut. It was recommended that he be taken into surgery right away to have it properly managed before it was too late.
Frightened and concerned, King Tut's owners turned to FACE to help with part of the medical costs involved. Luckily, FACE was able to grant them the funds they needed and King Tut can now go back home to enjoy more fun, and safe, adventures.