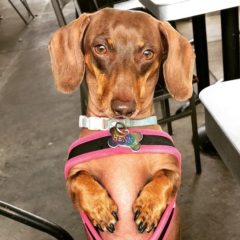 Henna
Meet grantee, Henna! Over Christmas weekend, Henna started having trouble walking and showing other signs of Intervertebral Disc Disease (IVDD). After many emergency vet visits and 3 days at the hospital, it was determined that Henna needed surgery.
At risk of paralyzation, Henna needed help ASAP but her mom just didn't have the funds for such a large expense. She had spent her savings and had to rely on family & friends for her already mounting vet bill.
Thankfully, Henna's mom found out about FACE and applied for assistance. We were able to provide the funding needed for Henna's life-saving procedure along with Life Sponsor Carlsbad Golf Center!