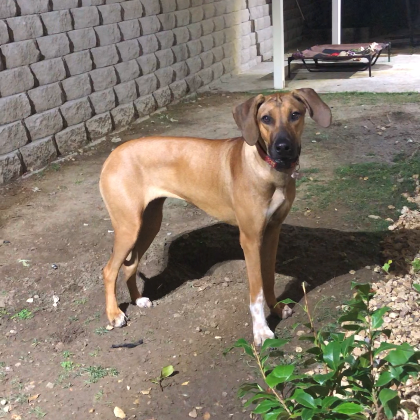 Harlow
Harlow is an energetic and playful Rhodesian Ridgeback. At only seven-months-old, her puppy-like tendencies still get the best of her. While out with her "dad" one day, Harlow slipped out from her collar and dashed into a busy street. Her dad was horrified to see her get struck by a car and immediately took her straight to the local veterinary hospital.
At the hospital, xrays confirmed Harlow suffered a serious fracture that would require surgical intervention. As a college student only working part-time, Harlow's dad did not have the funds needed to fix her serious injury. Thankfully, Harlow was receiving care at FACE partner hospital, Pet Emergency and Specialty Center. The staff informed Harlow's dad about FACE as a resource.
Harlow's dad immediately contacted us and quickly submitted all application materials. FACE is happy to report that we were able to help Harlow and her dad by making a pledge towards the cost of her fracture repair surgery.
Harlow's surgery was a success and she has been able to return home where she can recover comfortably with her dad.