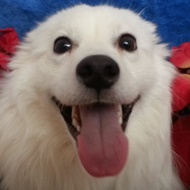 Hachi
'Dear FACE,
Thank you so much for working with me to get help for Hachi. He is a special boy who first came to our family through a spay/neuter hotline I was answering calls for. I arranged spay and neuter surgeries for the parents, and the woman asked me to find screened homes for the puppies. My daughter, Sam, volunteered to foster the puppies until they were old enough for spay and neuter. She soon asked to keep the little male as her own, and I agreed. He brought so much life to her. She spends a lot of time brushing him and teaching him new commands. They adore each other. He is her best and only friend.
Orphaned at age 6, Sam lived on the streets and in a series of children's homes in Kazakhstan. My husband Rod and I hosted her for a summer visit when she was 11 years old, fell in love with her, then traveled to Kazakhstan to adopt.
A year after we returned home as a family, my husband was diagnosed with cancer and became very ill, very fast. Sam seemed to deteriorate right along with him. The loss of a third parent proved to be too much for her. She became agoraphobic, and is now a prisoner of her anxieties. She struggles to be around people or outside of the house.
Our family business also suffered, then failed, when we lost Rod. We had to sell our home and move. Before all these things happened, I spent my time volunteering with animal welfare organizations, and taking dogs with medical issues out of the city shelter for rehabilitation and rehoming. I took on dogs with crushed spines, torn cruciates, luxated patellas, broken hips, severe generalized demodectic mange, and even parvo. My husband loved dogs and never refused my requests to rescue one, nor complained about the bills. So it feels humbling and ironic to need help now to pay for our own dog's surgery, but we do.
Hachi broke his leg last week playing in the yard with the other dogs. We have 3 dogs from a Los Angeles City shelter, and one foster dog who is waiting for her forever home. I now realize this foster dog, a 2 year old Boxer, is too rough to play with Hachi, and will not let them interact again. They get along well, but she is just too strong and rambunctious. I believe Hachi took a sharp turn and fell, and Gabby crashed into him. It was 7:30 in the morning, and I took him straight to the vet's office which opened at 8. The doctor was able to set the leg, and was hopeful that a splint would do the trick. But a week later, follow up x-rays showed that surgery is necessary.
I hope you can help us.
Thank you so much for reading our story, and for all you do to help animals and their families.'
Needless to say, FACE was able to help fund Hachi's surgery. Now this pup is back at home by Sam's side, right where this family needs him.