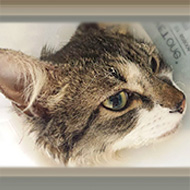 FACE supporters save Minikins!
The deadly Border Fire nearly took the life of one special little cat, but our community came together to give this sweet girl a second chance at life.
Campo resident Renee wasn't at home when she got a terrifying call from her roommate – they were being evacuated. Fear and panic set in as Renee rushed home. Authorities were not letting anyone into her neighborhood, and her beloved cats were in the path of the fire. Renee was frantic, she could not leave her fur-babies behind. She found a Cal Fire Officer who agreed to drive her back to her house. "It was orange everywhere, and then it was only gray. Finally we saw my roof through the smoke," Renee told FACE. The fire had burned all the way up to her porch.
She found all but one of her cats hiding under her house (her cat Blue did not survive). They were frightened but okay, except Minikins. Minikins had suffered serious burns to all four of her little paws. She was howling in pain – the fur and skin was seared off and fire retardant was stuck to her flesh. Renee rushed Minikins to the hospital, heartbroken.
The amazing team at Country Pet Hospital took incredible care of Minikins, but her wounds were so severe that she needed a debridement surgery and will continue to need several weeks of bandage changes, which Renee cannot afford on her own. The Veterinary Specialty Hospital has generously discounted their fees for FACE. It truly has taken a village to save this little kitty, but her doctors are optimistic about her healing.
We want to thank everyone who made a contribution toward Minikins' critical care! Your support means so much to Minikins, to her "mom" Renee, and to all of us here at FACE. Thank you for your support and compassion.
Those interested in supporting Minikins can still click here to make a contribution toward her emergency care. 
*Please select "gift in honor of" and write "Minikins" to ensure your gift goes toward her care.
Click here to watch Minikins' story on ABC News!