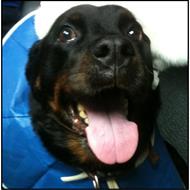 FACE Saves 1,000th Life!
September, 2014-FACE is thrilled to announce that we have saved the lives of over 1,000 pets in our community! We invite you to meet Khya, our 1,000th life saved! 
Khya is a sweet, happy Rottweiler, and a beloved member of her family. 'Dad' Brandon works for a printing company and 'Mom' Margaret secures various work through a temp. agency. They have a toddler, Brandon Jr., who adores Khya. Although they live paycheck to paycheck, they are a happy family and consider themselves blessed.

In September 2014, Khya suddenly stopped eating. Her family wasted no time and took her to their veterinarian, who diagnosed her with a severe uterine infection they'd never heard of: Pyometra. The cost to save Khya was far more than her loving owners could afford. Heartbroken, Brandon spent the night on the hospital floor beside Khya, thinking it would be her last.

Fortunately, the Pet Emergency and Specialty Center partnered with FACE to give Khya a second chance at life. 'We are beyond thankful for such an amazing foundation,' said Khya's family. 'Thank you for all you have done for us.'

Through our Humane Education program, FACE strives to educate pet owners on the importance and health benefits of spay and neuter. We hope that Khya's story will help save lives.
Check out this CBS exclusive news coverage of our 1,000th life!
San Diego, California News Station – KFMB Channel 8 – cbs8.com