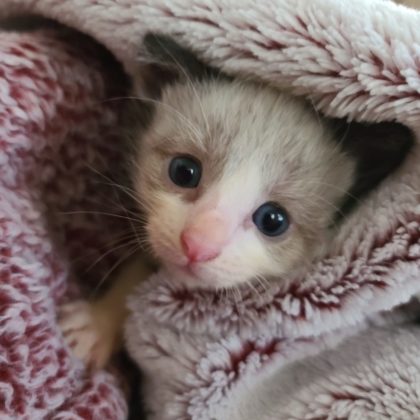 Duke
What's better than a cat named Duke? How about a kitten named Duke!
This sweet baby had a rough start at life and was found as a stray. Duke's new, loving mom took him in, cared for him, and had him checked by a veterinarian where he received a clean bill of health! After a few weeks though, Duke began struggling to urinate. After another trip to the hospital, he was diagnosed with a urethral obstruction and needed emergency surgery. His mom and her three children had needed to move in with a family member for support and financially things were tight. Fortunately, FACE was able to help and we received a nice note from Duke's mom!
"My family and I are beyond thankful for all you did to help Duke. He is doing great. Eating, playing and purring. His last doctor check up showed that he continues to improve. Again a huge hug and thank YOU from Duke's family."
Thank you to Life Sponsor Susan Muha for helping pets like Duke!