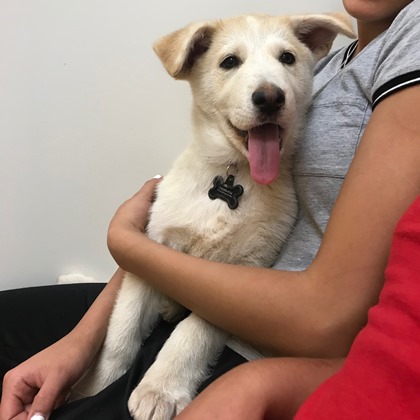 Coyote Apollo Ace
Say hi to…Coyote Apollo Ace! A couple weeks ago, this sweet boy was having a fun day playing in the backyard after days of being kept inside due to the recent rain. Once outside, his curiosity got the best of him and he ended up sliding under the fence and running directly into the street. Not aware that he had escaped from the backyard, Coyote Appollo Ace's family panicked when they heard a yelp and car swerving. They raced outside to their sweet dog crying out in pain.
At the Veterinary Specialty Hospital in San Marcos, Coyote Apollo Ace was diagnosed in need of a femoral head ostectomy, or FHO, the surgical removal of the head and neck of the femur. Coyote Apollo Ace had an excellent prognosis with treatment, but his family was financially strained.
Coyote has a big loving family who are extremely hardworking, but still struggle to make ends meet. They worked incessantly to raise a substantial amount to put towards his care, but still came up short in funding the entire cost. They reached out to FACE hoping to get any help possible.
After reviewing their application, we were able to make a pledge to help with Coyote Apollo Ace's care! Special shout out to the entire team at Veterinary Specialty Hospital and Dr. Ganz for taking such great care of Coyote!