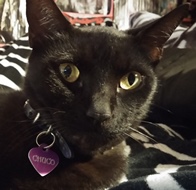 Chuco
Meet Chuco!
This handsome boy has quite a story! When he was just a tiny kitten Chuco was found by his devoted ìmomî in the bushes at a gas station on a rainy day. She nourished him back to health in no time and showered him with more love and affection than any kitty could hope for! Their bond quickly grew to be unlike any other. Being the attentive mother she is, his owner immediately noticed when Chuco began walking differently and was struggling to eat. After a few months of seeing her precious friend's health continue to decline, she knew something was seriously wrong. The 
Veterinary Specialty Hospital
 of North County confirmed Chuco had a cancerous tumor that threatened to claim his life. His "mom" took on 3 different jobs in an attempt to pay for the procedure Chuco needed, as well as helping to pay for her mother's mortgage and trying to save up for a car. She vowed to help Chuco through this dark time the way he had always helped her through hers. Luckily, she reached out to FACE, desperate for a helping hand. Thanks to a special grant from the 
Petco Foundation
 and 
Blue Buffalo
 FACE was able to fund Chuco's cancer treatment.