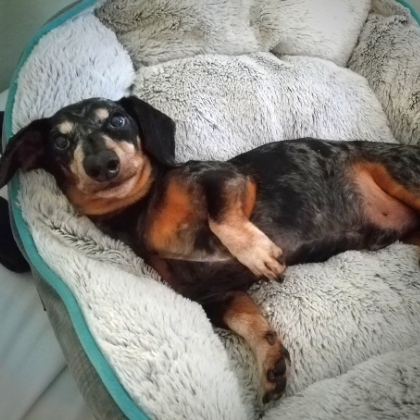 Chopper
Chopper is a working dog, supporting his "dad" as a service animal. Chopper's job is very important, so when he suddenly lost movement of his back legs, Chopper's dad did everything he could to save his companion. Chopper was referred to our friends at Veterinary Specialty Hospital in Sorrento Valley where he was diagnosed with a herniated disk. To prevent paralysis, Chopper needed surgery ASAP but his family did not have the means to afford an emergency expense. Thanks to our amazing supporters and a generous discount from Veterinary Specialty Hospital, FACE was able to help Chopper get the surgery he needed to walk again.
"This organization is truly a godsend and angel to our community. The way they help pets in need is truly a blessing. They are a wonderful asset to our community." – Chopper's family
We owe a huge thank you to the team at Veterinary Specialty Hospital for the many lives they have saved in partnership with FACE. Veterinary Specialty Hospital has been a FACE Save-A-Life partner since the organization's inception and has played a vital part in the growth of the organization's programs.