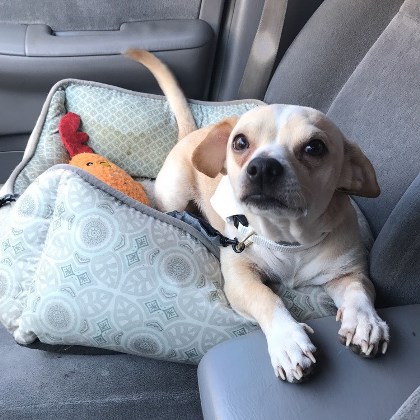 Charlie
Adorable Charlie is a two-year-old chihuahua mix who ended up at the hospital after her mom found her with a half eaten sock AND bobble head. According to her parents, Charlie has a history of eating things, so originally they were not too concerned with her bouncing back.
The next day when Charlie was unable to eat and had no desire to play, they knew she needed to be seen by a veterinarian immediately. At VCA Animal Medical Center of El Cajon, an ultrasound confirmed that Charlie needed surgery to remove the foreign objects she had ingested. With surgery, Charlie had a great prognosis for recovery, but without, she was unlikely to make it.
Charlie brings immense joy to her active duty military family, but her parents just didn't have the funds to pay for this emergency procedure upfront. They contacted FACE in dire need. We walked them through the application and they quickly sent in everything needed.
We were able to help fund towards Charlie's surgery! This happy girl has returned home and will be staying away from hazardous things to eat!