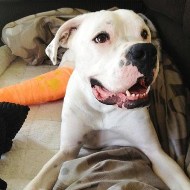 Brutus
When a rabbit or a bird or a lizard catches the eye of a dog, the dog's prey drive can kick in. Dogs are predators and the prey drive is just part of what they are. It is a natural instinct. The challenge, of course, is when you are taking your dog for a walk. Enter Brutus, a one and a half year old Boxer who weighs 67 pounds. Brutus and his humans were out for a walk when Brutus saw a rabbit. Fortunately for the rabbit but unfortunately for Brutus, a fence got in the way. Brutus was caught in the fence and the result was multiple fractures of his right rear leg.
Brutus had been adopted by his human family from a shelter just one month earlier. In his short life, his new home was his third home because his prior owners had been deployed or were otherwise unable to care for him. He was already loved by his new family but the expense associated with the surgical repair of his leg was more than his family could afford. Faced with unexpected veterinary costs, they posted treasured items for sale on craigslist including a new set of Affinity Men's Golf Clubs and a Hitachi Projector. At the same time, FACE Foundation stepped in to help.
Brutus had his surgery in early December. We're calling him a robo dog because a plate and fifteen screws were implanted. He just had his final x-rays and things are looking good. He's been taking two short walks each day and can't wait to get back to jogging and running. What else does Brutus like to do? He's described as a bit of a goofball. When he rides in the car, he sits backwards. He loves to lay on his back and using his 'arms', he'll hold a doggie toy in the air and gaze at it. He loves to roll on the floor with his human dad. From a prior life where Brutus may have felt vulnerable and uncertain of what the future might bring, he now knows that he has a family who will love him and take care of him forever and that he'll never be left behind again.