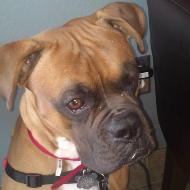 Bronx
Bronx the Boxer is a goofy and lovable guy who was suffering from bladder stones. After attempts to catheterize him failed, it was clear that he needed an emergency surgery. He was completely obstructed, and wouldn't survive without a Cystotomy – a procedure that would save his life.
Bronx is the beloved 'fur baby' of a single mother of two, who struggles to put her daughter through college and support her special needs son, who adores Bronx.
Luckily, FACE was able to help! Bronx got the surgery he desperately needed, and now he's back to being his goofy, happy self.