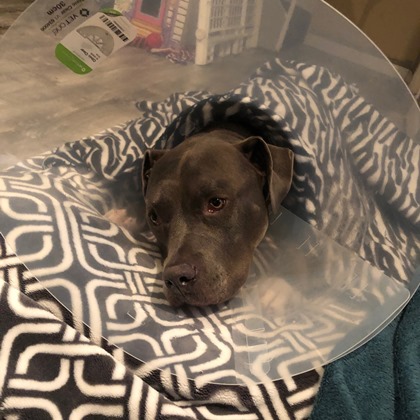 Berkeley
Berkeley is a sweet three-year-old pit bull terrier. His mom, Jessica, considers Berkeley her best friend, and loves doing everything with him by her side.
So when Berkeley was suddenly unable to urinate, Jessica rushed him straight to the veterinarian. X-rays confirmed that Berkeley had bladder stones that were impacting his ability to urinate properly. He would require an emergency cystotomy surgery to remove the hazardous stones.
Jessica was devastated. She had used what money she had getting Berkeley diagnosed, and now was facing a surgery cost that she could not afford.
Berkeley's veterinary hospital, Mast Blvd Pet Hospital, let Jessica know about FACE and how we may be able to assist with some of the cost of Berkeley's emergency care. Jessica quickly contacted us and explained her story. FACE was able to make a pledge to help Berkeley receive his surgery that next day!
Jessica updated us, "without your help this most likely wouldn't have been possible! Words can't even describe how grateful we are! Than you again! Berkeley is recovering!"