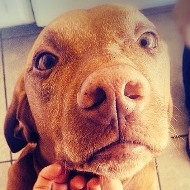 Bambi
Bambi and her brothers Benjii and Bodhi were in the back of their loving owner Michelle's car. Michelle, her best friend Agathe, and the dogs were looking forward to hiking at their favorite trail. While waiting to make a left turn, a speeding van smashed into the back right side of the car. 
Michelle's car went spinning into the intersection, hurling Bambi and Benjii out of the smashed back windows and into oncoming traffic. Drivers around the accident slammed on their brakes to avoid hitting the dogs, who were both lying motionless in the street. 
The frantic girls climbed out of the crushed car and ran to the dogs. Bodhi was safe in the back seat, Bambi had suffered multiple fractures and lacerations, and Benjii died moments later in Agathe's arms.
The dogs were rushed to the hospital, and Bambi's owners reached out to FACE after creating a fundraising page to help their sweet girl. The donations were coming in, but not nearly enough. FACE reached out to our amazing supporters who responded to the call right away. Bambi got her surgery, and is now back at home with Michelle recovery very well.
'We are so grateful and so honored to be part of such a supportive community,' said Michelle. 'Thank you so much.'