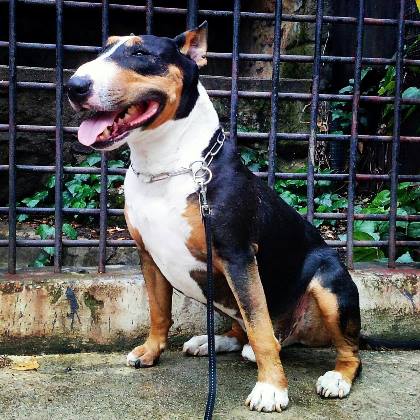 Badjak
This handsome bull terrier is named…Badjak!
Badjak needed FACE assistance recently when his cornea was punctured by a small branch or twig while out on a walk. VCA Eye Clinic for Animals quickly assessed Badjak as needing an enucleation, or removal of the eye. Badjak's dad, Colin, was out of work at the time of his diagnosis, and had no way of paying for his emergency care. Colin did everything he could to raise the funds needed, but still came up short. He was heartbroken seeing his best friend in so much pain, and contacted FACE desperate for any assistance.
After talking to Colin and reviewing Badjak's application, FACE was able to make a pledge towards his emergency surgery. Colin updated us that Badjak is recovering quickly and in great spirits!
In Colin's words, "Jak is playful and affectionate, alert and endearing. After having him for almost 8 years I can firmly attest to him being one of the sweetest, smartest and most intuitive dogs I have ever met."