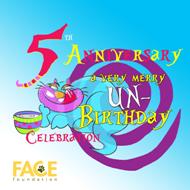 Our "Stay-at-Home" Gala Was the Best Birthday Party in Town!
Our first ever 'Stay-at-Home Gala' –  A Very Merry Un-Birthday Celebration! Our 'Un-Birthday,' inspired by the famous Wonderland Tea Party, commemorated the lives of all the pets who will enjoy another birthday thanks to the FACE Foundation!  The event was a hit and all of the money raised went directly towards saving the lives of more family pets.
We would like to thank everyone who participated by purchasing an event ticket – we hope you enjoyed your 'goodie bag!'  Also, congratulations to all of our raffle prize and silent auction winners!
Thank You to Our Sponsors…