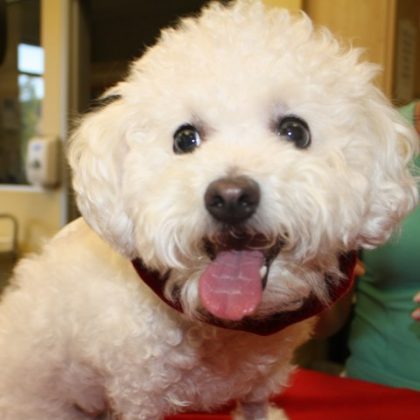 Marvelous May: A Record-Breaking Month for FACE!
The month of May was extraordinarily busy for FACE!  In May alone, the money we provided to save pets totaled over $40,000.  Since inception, FACE has granted over $540,000 to families and pets in need!  For each month in 2011, we budgeted to grant $17,500, but by the middle of May, the monthís funds were depleted!  Luckily for the animals in need of help, donors supplied FACE with the funding necessary to sustain the organizationís granting program.  Peri and Peg Urvek, longtime donors and friends of FACE, graciously donated $35,500 in May!
Previously, Peri Urvek provided life-saving funding for Buddy, a local cat, who faced life-threatening injuries after being attacked by neighborsí dogs.  Buddyís owner was incapable of funding the necessary surgeries, and upon hearing of Buddyís condition, Urvek dedicated herself to helping both him and his family.  Urvekís philanthropy has benefited other recipients of financial assistance from FACE, such as Chanel, a Maltipoo puppy who fractured her leg, and Daisy, a young American Bulldog mix, whose Marine father did not have the finances for her surgeries after she was hit by a truck.
When asked the motivation for her generosity, Urvek responded, ìI do this becauseÖmany animals are doomed to either be put down or to have to suffer in pain for days until their owners can arrange a way to pay forÖtreatment.  FACE is often called upon to make those arrangements.  I believe that if a person who has a pet that is well and not in pain can give just a small donation to help someone whose pet is either sick or injuredóbut who cannot find the money to get the pet made healthy againówe could improve the world around us…one person, one pet at a time.î
Illuminating the tenets of FACE, Urvek strives to raise awareness about the high costs of emergency and life-saving medical care for animals.  In supporting the survival of ill and disadvantaged animals, Urvek explains, ìI wholeheartedly recommend pet health insurance…and until our pets can be insured, FACE will need donations….so instead of buying a ticket to one sporting event in a month this summer, donate the cost of the ticket and stay home and watch it on TV. If every person who goes to a Padres game this summer would donate the cost of one ticket a month to FACE, more pets would be saved.î
Urvekís gift, which was supplemented by the gifts of many other supporters, allowed FACE to fund procedures and treatments for May.  Fortunately, no animal referred to FACE was denied financial assistance or care because of our donorsí charity!  May was a record month, and benefactors like you made it possible to save over twenty lives!  Congratulations, and thank you!