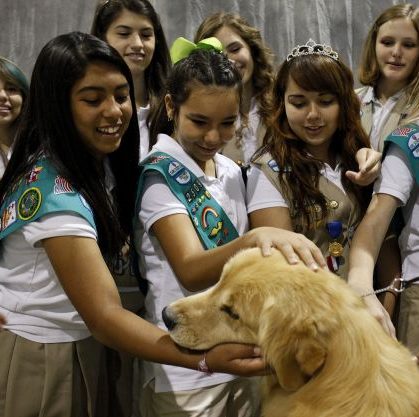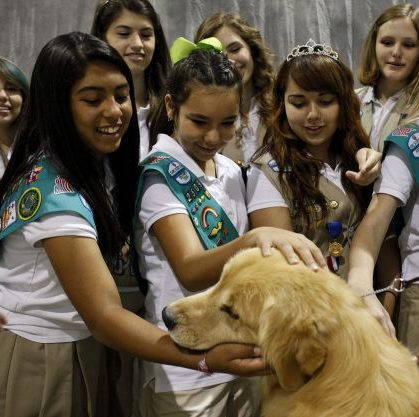 It's Better To Give Than To Receive
Recently, FACE has benefited from the generosity of some young, thoughtful hearts.
Brownie Girl Scout Troop 5902 generously donated a portion of their cookie sales to FACE ìto help save the animals,î said troop leader Page Donovan.  Everyone who enjoys delicious Girl Scout cookies knows how much hard work goes into selling them.  The FACE Foundation greatly appreciates the effort these girls put forth to help pets and families in need.  In return for their thoughtfulness, these girls were treated to a behind the scenes tour of the state-of-the-art Veterinary Specialty Hospital in Sorrento Valley, which is located right next to the new FACE office.  The girls were able to see just how much of a difference they are making by giving back to their community.
Adorable young sister, Alchemy and Mazzalyn, recently shared their 4th and 1st birthdays together.  In lieu of receiving the ìlatest and greatest giftsî from friends and family, their parents requested that donations be made to the FACE Foundation.  They understand how difficult it can be for families to pay for their pets' emergency veterinary care, and thought that donations would be a great way to honor their girls' birthdays.  These two sisters are fortunate enough to have the things that they need, including clothes, food, and toys, and their parents are trying to teach them that not everyone is as lucky as them.  They would like their children to grow up to be charitable and conscious of what is going on in the world, and to know that making a difference is important. 
Itís wonderful to see local youth growing up to be charitable and considerate of others in need. Not only is it rewarding to help others in need, but it can mean the difference between life and death when contributing to organizations like FACE.
If you would like to help animals and families in need, please click here to donate to the FACE Foundation.