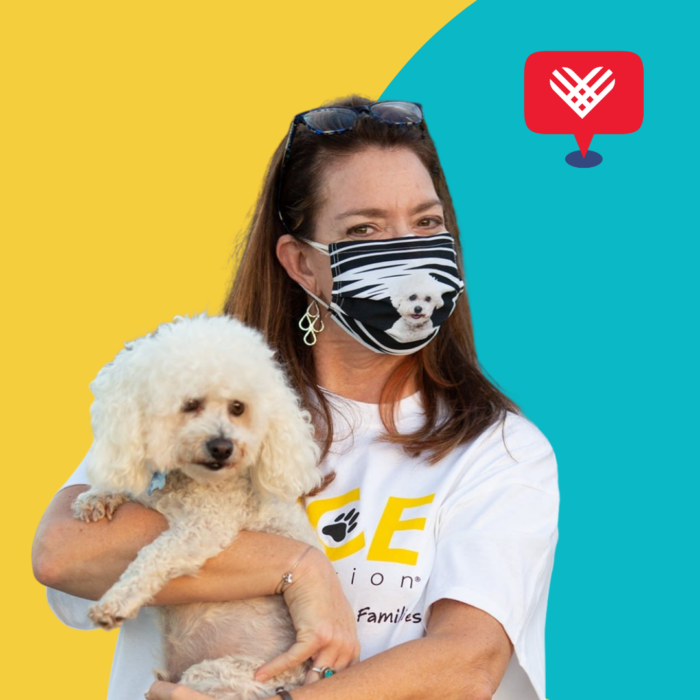 FACE is taking part in Giving Tuesday, a global day of giving, on November 30th.
There's no better day to honor your love for animals – you can help TWICE as many beloved pets – gifts made on Giving Tuesday will be matched dollar-for-dollar up to $10,000 thanks to a generous match from our sponsor, Spearhead LLC.
Pets and Families Need Your Help
This Giving Tuesday, we are raising funds and resources for pets and families through our Community Outreach program. This program focuses on connecting underserved pet owners with resources to veterinary care and pet supplies. Since 2016, FACE has partnered with 12 different organizations to serve more than 2,500 pet owners in San Diego County, many of which are food insecure or are currently experiencing homelessness.
FACE is currently collaborating with Feeding San Diego at their drive-thru distributions averaging 300 households per event. We found out these families were feeding their pets the food they received from the distribution, which only contains human staples. FACE has stepped up to provide healthy dog and cat food and other pet supplies these families need to stay healthy.
Ways You Can Help, Starting Today:
Giving Tuesday Donation Drop-Off
You're invited to join us at FACE's Sorrento Valley office to drop off pet food & supplies for our Outreach Program on Giving Tuesday. We'll have a special photo area so feel free to bring your pet with you! Details:
Stop by anytime between 10am-5pm on 11/30
Donations accepted: new, unused bags of dog & cat food, leashes/collars, blankets, and toys. Please make sure any products you donate are unused.
Pet friendly – get some photos of you & your pet!