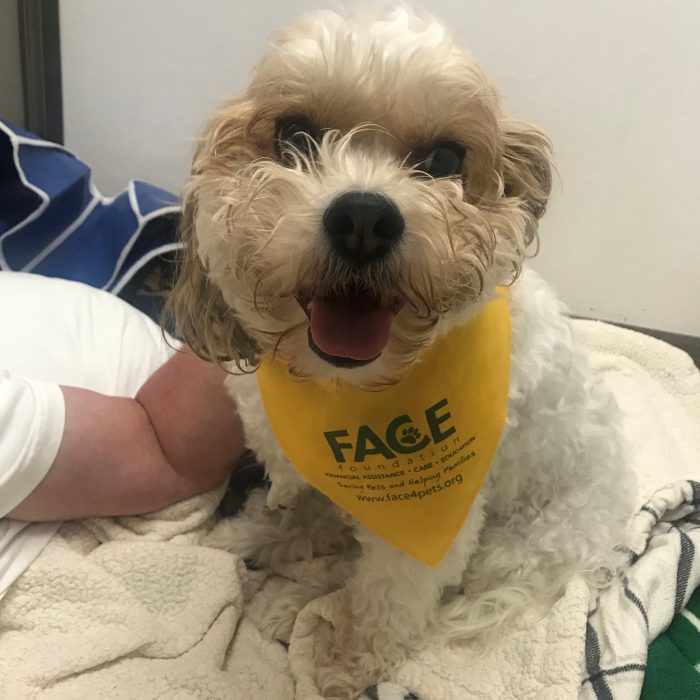 FACE Donors Save Benjamin
Recently, a local senior named James and his buddy "Benjamin," a 10-year-old Spaniel Mix, were heading to bed when Benjamin accidentally slipped and yelped in pain. By the next morning, he was dragging both of his legs and had trouble urinating – something was seriously wrong.
James is a veteran who served in the Navy for 21 years. He is now partially retired & works part-time while receiving disability income. He's able to make ends meet and provide Benjamin a great life; however, this sudden emergency has resulted in a major treatment that James simply cannot afford on his fixed income. They are best pals, and Benjamin brings James great comfort. As James put it, "Benjamin is a little mischievous, just like me. I think that is why we are a perfect match."
Benjamin was rushed to Veterinary Specialty Hospital Sorrento Valley and was told he needed two surgeries: one to fix a slipped disc in his spine and the other to remove bladder stones blocking his urethra. Incidentally, his bladder stones became an issue at the same time he injured his back, doubling the amount of care he currently needs. Without these surgeries, Benjamin wouldn't be able to make it.
The community of FACE supporters and donors rallied together to raise funds for Benjamin's life-saving surgeries and he is now doing much better.
FACE Staff were able to visit Benjamin after his surgery. He is such a sweetie, and his current condition didn't stop him from giving us a big smile!
James is over the moon to be back with his best pal. Because of the compassion of the San Diego animal community, James will have his best friend back by his side. He'd like to share a special video message with all of our supporters which you can watch here.