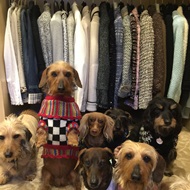 FACE Saved Even More Lives This June!
FACE kicked our 'Closets for a Cause' program up a notch for the animals this June by partnering with My Sister's Closet consignment boutique to save even more family pets. During the month of June, animal lovers consigned their FACE items at My Sister's Closet and 100% of the proceeds went directly to support our mission!
Even though this 100% give-back special was only during the month of June, our Closets for a Cause Program runs year round.How can you help?
Donate designer clothing, handbags, shoes or jewelry in new or excellent condition. Men's items are also needed.
Spread the word: forward this email to friends, family and fellow fashion lovers to support FACE!
Email [email protected] today to donate!
A big THANK YOU to My Sister's Closet for your support and generosity!
***www.mysisterscloset.com***