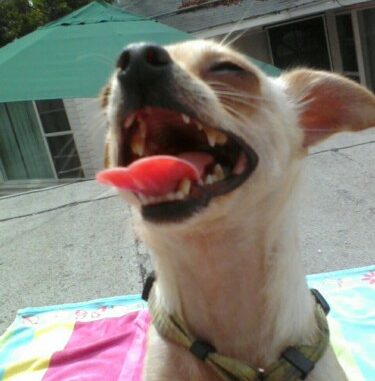 FACE Raises Funds for Life Saving Care
Stitch, an adorable 4 lb. 3-year-old Chihuahua got away from his owner De Anna and was struck by a car. He suffered head trauma and multiple pelvic fractures. For such a tiny dog being hit by a car almost ended his life, but Stitch is a little fighter and after two nights in the hospital, doctors were able to stabilize him enough for surgery. De Anna, Stitch's loving owner lives on a limited income as a waitress and already spent almost $3,000 in emergency care. De Anna was out of money and could not afford the surgery Stitch needed to survive. Devastated and desperately wanting to save her sweet dog, De Anna came to the FACE office today with an application in hand. She couldn't stop sharing pictures and stories about her beloved Stitch.
For such a young boy, Stitch has already had a difficult life by most standards. As a puppy, he was a malnourished stray running the streets in Mexico. He eventually wound up in a San Diego-area shelter. There he was placed on the euthanasia list. While he waited for his young life to end he shared a kennel with a much larger dog. Poor Stitch was attacked by his kennel-mate and contracted a serious infection from his wounds. Fortunately, a local Rescue took him from the shelter, intent on finding this survivor a permanent loving home. Finally, he was adopted by De Anna who has adored him and pampered him ever since.
Through your generous donations the FACE Foundation was able to provide life saving care for Stitch and he is currently doing well in recovery.