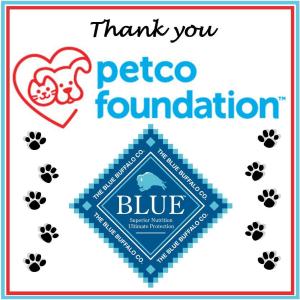 FACE Awarded a Generous Grant From the Petco Foundation & Blue Buffalo!
FACE is thrilled to announce that we have been awarded a second grant from the Petco Foundation and Blue Buffalo! This grant is designated towards helping pet parents who cannot afford the cost of their pet's cancer treatments.
FACE's normal funding criteria does not allow grant to be administered for any condition with a 'guarded' prognosis that requires ongoing treatment, and we have therefore been unable to fund cancer treatments. Now, thanks to this incredibly generous grant from the Petco Foundation and Blue Buffalo, FACE will be able to save even more lives in our community by helping provide financial assistance for local pets who have been diagnosed with cancer.
FACE has partnered with San Diego oncologists from six different veterinary hospitals to help determine which animals will benefit most from a life-saving cancer grant. If your pet has been diagnosed with cancer and you are in need of assistance, please call our office at 858-450-3223 to see if you qualify for a grant from FACE.
We would like to thank both the Petco Foundation and Blue Buffalo for their generous support and for helping us save the lives of local family pets!
Please click the link below to read about the Success Stories from our first cancer grant. Funds from the first grant were awarded between May of 2014 and March of 2015.
Petco Foundation_Blue Buffalo Grant
Posted: May 1, 2015