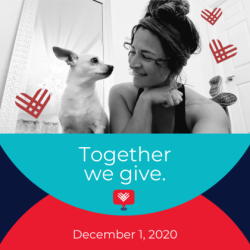 Giving Tuesday 2020
Giving Tuesday is a global day of giving that encourages others to give, collaborate, and celebrate generosity. You can help pets and families by participating in FACE's Giving Tuesday campaign on December 1st! Thanks to the support from Spearhead LLC, all donations will be matched dollar-for-dollar up to $10,000! Help us reach our overall goal of $20,000 by donating today.

PETS AND FAMILIES NEED HELP
Due to the health crisis, families in our community are struggling and pet parents need help now more than ever. This year, the unemployment rate of FACE grantees has soared from an average of 5% to 48% since March. At one point, this statistic was an astounding 80%. Pet parents have less to contribute to their pet's care overall, leaving FACE with higher than average costs.
FACE's programs have remained operational and we are grateful to maintain this resource for pet parents in our community. So that we can continue to save pets and help families together, we ask for your continued support of our mission this Giving Tuesday.
We need your help to continue providing second chances to as many pets as possible. This Giving Tuesday, will you save a life by donating to FACE?